A couple of weeks ago, Moroccan-born, UK-based artist, Hassan Hajjaj opened his solo exhibition Kesh Angels at Taymour Grahne Gallery in the Big Apple.
For his first exhibition in New York, New York, Hajjaj has presented photographs that pay tribute to the biker culture of the young women of Marrakesh in Morocco.
"Hajjaj's work plays with and upends stereotypes, the power of branding, and the familiarity of everyday objects, applying a 'street-wise' approach to his layering of influences, items, and cultural signifiers to imbue the work with an electrifying tension."
Marrakesh is a city overrun with motorcycles and it's just as common to see a chick straddling a bike as it is to see a bloke. Which I think is fucking awesome considering Morocco is a North African, predominately Islamic country with relatively limited women's rights. I dunno, I just think its sick that girls are able to partake in a typically masculine venture. This scene is still not even as widely accepted in Australia, or even the Sates, where the word "biker chick"  has a certain stigma or taboo associated with it. Thats where Hajjaj comes in. "Hajjaj's approach is to toy with the perceptions of Arabic culture and the relationship between East and West, recasting iconic images and allowing shafts of 21st-century light to reenergise the encounter,"
Hajjaj left his Moroccan home for London at an early age. Heavily influenced by the hip-hop, reggae, and club scenes of  the Smoke as well as by his North African heritage, Hajjaj is a self-taught and thoroughly versatile artist whose work includes portraiture, installation, performance, fashion, and interior design, including furniture made from recycled utilitarian objects from North Africa, such as upturned Coca-Cola crates as stools and aluminium cans turned into lamps. Kesh Angels features an installation of his furniture in the lower gallery, completely transforming the space into one of the artist's signature lounges.
If you're lucky enough to be over in New York, you should definitely go check out his exhibition in the flesh, which runs through to March 7, 2014 at the Taymour Grahne Gallery. If not, I've got your back and have chucked in some photos here.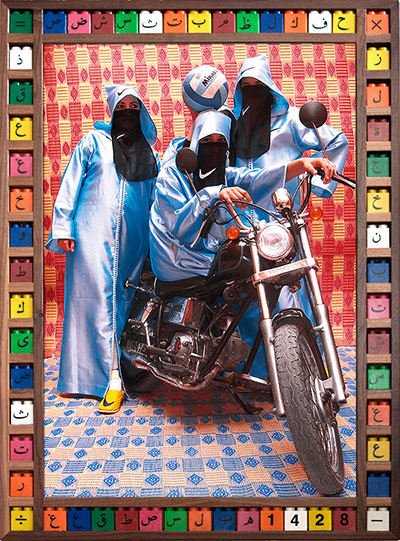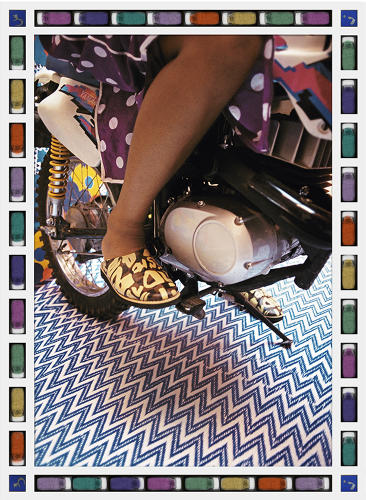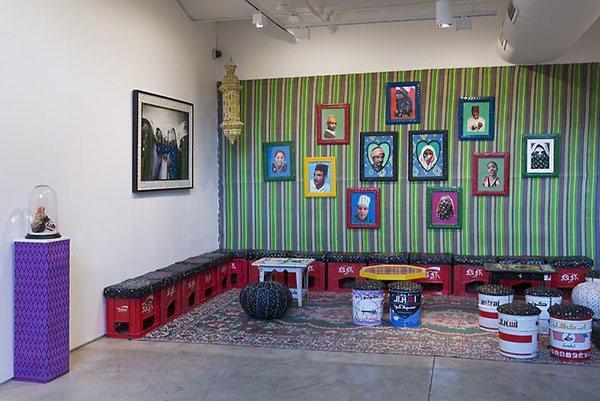 Comments
comments